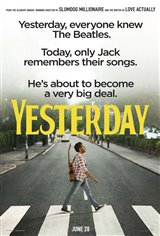 Yesterday
| 109 Reviews
Write a Review
In Theaters: June 28, 2019
On DVD/Blu-ray: September 24, 2019
4.44/5
Based on 312 votes and 109 reviews.
Please rate between 1 to 5 stars
Showing 41-50 of 109 reviews
July 17, 2019
Excellent, interesting movie. See "YESTERDAY" today. It's worth your time and money.
July 14, 2019
Original, delightful. A fresh story with actors who are not famous, but well-performed throughout. Enogh surprises and twists near the end to make it more rewarding. Plus, every time he launches into another song, you are left going, "damn, another great tune."
July 14, 2019
The was a magical mystical tour that explores the tenents of Physics String Theory which holds that there exists infinite possibilities of anything happening in an endless amount of universes which all universally hold the maxim of "Be True to Thyself" to be the ultimate truth in the meaning of life in achieving ultimate peace and true happiness. I got chills when Jack sings his first Beatle song. Extremely well-done while packed with experiencing every conceivable emotion with humor, sadness, regret, excitement, and most importantly, that love that we all seek and cherish as human beings.
July 14, 2019
Great movie, all 3 of us loved it!
July 14, 2019
Clever storyline. Never sure how it's going to end until it ends. And acting was ok, but didn't seem as well-cast as it should have been. No chemistry between the lead actors. Music is timeless. Wonder what Paul thought.
July 13, 2019
Loved revisiting the songs!! Interesting concept. Loved the ending (OOBLA DEE is my favorite.)
July 13, 2019
Great Movie. One of the Best that I and My Wife have seen. We see a lot of Movies and this is well worth seeing.
July 13, 2019
This movie was so cute and had a great story to it!
July 13, 2019
total blast! LOVED every minute of it!
July 13, 2019
This movie is very well done. The acting, the sets and mostly the music. The script was ORIGINAL & had something for every age. We saw it twice.