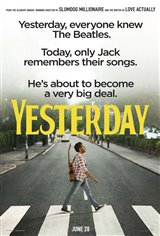 Yesterday
| 109 Reviews
Write a Review
In Theaters: June 28, 2019
On DVD/Blu-ray: September 24, 2019
4.44/5
Based on 312 votes and 109 reviews.
Please rate between 1 to 5 stars
Showing 11-20 of 109 reviews
August 3, 2019
Entertaining characters and of course great music! As Beatles fans we really enjoyed it and found the actors well cast for their roles. It's a good summer movie, clever and touching. Just go with its concept and have some escapist heartwarming fun!
August 3, 2019
While I enjoy a good escapism movie and the Beatles, there were too many plot holes for me as well as scenes from the trailers that didn't make it in the movie. It's like the director just gave up on some scenes and simply cut to the next one. So, I'd say this is a wait until a rental or such.
August 1, 2019
As a huge Beatle fan, I was disappointed in this movie. The plot wasn't very good, and bringing Ed Sheeran in really did it for me. I know it was intended to be a 'fun' movie, but I just thought it was a lot of fluff. I also didn't like the Beatle covers. They were 'OK', but I didn't like how they were handled (e.g., arranged/mixed/produced). It's definitely a 'Wait Until Netflix' movie, in my humble opinion...
July 31, 2019
If you want an escape, Yesterday is a good movie. The actors were quirky and sweet. I loved that they cast a relatively unknown Indian actor for the lead and he did a great job. Lilly James was adorable as usual and there were some great comedic moments. This movie is asking you to irrationally go with fantasy. If you can't do that, you won't like it. It is not intended to make sense. It's just a sweet and fun summer movie with Beatle music and cute characters. The ending has a good message about what's important in life.
July 30, 2019
Clever concept that is well carried out by the writers and actors. The basic plot line is predictable but still entertaining. I'll see it again.
July 30, 2019
Best "feel good" movie I have seen in awhile.
July 30, 2019
Loved this movie. Best described as adorkable
July 30, 2019
The best movie I have seen since Forest Gump. It was amazing.
July 29, 2019
Absolutely loved it! I want to see it again!
July 29, 2019
Funny, great music, and a heart tugging surprise.. Lead actor and cast were very funny!