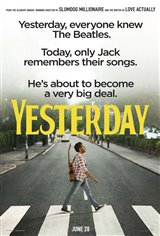 Yesterday
| 109 Reviews
Write a Review
In Theaters: June 28, 2019
On DVD/Blu-ray: September 24, 2019
4.44/5
Based on 312 votes and 109 reviews.
Please rate between 1 to 5 stars
Showing 1-10 of 109 reviews
January 10, 2020
The goodwill people feel while watching this movie is generated by the great music by the Beatles and the feelings of nostalgia they generate. Look closer and think harder about what is going on here. This has to be the first ever narrative that says that plagiarism is a GOOD thing! In fact, this movie says the world would be a MUCH better place if the actual artists stepped aside and let scumbag rip-off artists take all the credit. The ultimate underlying message of the movie is mortifying and reprehensible.
September 18, 2019
Better than I expected. Surprisingly funny and no bad language that I recall. A nice love story as well without the sex scenes . Also the covers of the many Beatles songs were good enough. Decided to see it after seeing the trailer and very glad I did.
September 2, 2019
Absolutely loved this movie. An interesting concept for a movie that was great entertainment. Didn't want to leave the Theatre!!
August 27, 2019
GREAT premise, GREAT music, funny, and very sweet ending
August 15, 2019
A definite feel good movie!!
August 11, 2019
An excellent and very enjoyable movie, easy to watch, nothing to dislike. Easily, 5 Stars. Go see it.
August 10, 2019
Saw it with my children and ex. (ages ranging from 15 to late 50's) we all enjoyed it. For me, it was a wonderful time. A day of memories to cherish. YESTERDAY was a Nice, a very Nice time. Highly Reccommend to everyone. & the Music is Great ! Yes!
August 9, 2019
A wonderful movie - especially if you're a Beatles fan!!!
August 9, 2019
A wonderful movie - especially if you're a Beatles fan!!!
August 7, 2019
Went from becoming involved with to pissed at main character for being dumb, to loving the characters then eventually thinking this was one of the best movies I ever saw. The music was timeless obviously and in the movie splendid. The female friend was played wonderfully a fine performance. I recommend this movie and keep your shirt on.