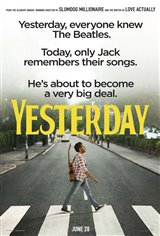 Yesterday
| 109 Reviews
Write a Review
In Theaters: June 28, 2019
On DVD/Blu-ray: September 24, 2019
4.44/5
Based on 312 votes and 109 reviews.
Please rate between 1 to 5 stars
Showing 101-109 of 109 reviews
June 28, 2019
Bravo , Hollywood on coming up with an original concept for a film . great acting and lots of humor mixed into a heart touching story . I really enjoyed it .
June 28, 2019
Nice love story with great music.
June 28, 2019
A rating of 64 - out of 64. If you loved the Beatles in their day, you will love this movie. Pure fun and though no one sang along, I suspect most of us wanted to. Good acting by all. But it was pretty much the over 55 crowd. Hope it does well and going to see it again. In this day and age, that makes it 5 star.
June 28, 2019
A really feel good movie. Loved the music and how it was weaved into the movie. A nice love story. Makes you wonder how life would be if things went missing from it.
June 28, 2019
I saw the preview last night and loved the movie - I grew up with the Beatles and loved hearing their music again. They were great song writers. A must see - it keeps your attention - people were singing along with the music at the end of the movie (while the credits were running) it was a much simpler time for music where you could hear the words and learned them easily. Really liked the movie it kept my attention the whole time.
June 27, 2019
Heartwarming movie that gave me a new appreciation of The Beatles songs. A refreshingly new take on a what if scenario. Loved it & the characters from start to finish.
June 27, 2019
The usual movie cliches were subverted by sparks of comedy that keep you giggling in your seat. You don't expect to be surprised by a comedy but many little moments pop up over and over. Very imaginative and so enjoyable!
June 24, 2019
Fantastic! I laughed throughout and the story kept my attention throughout.
June 18, 2019
Saw an advance screening last night, this is the best movie I've seen in a long time, it's hilarious and the tunes are amazing!