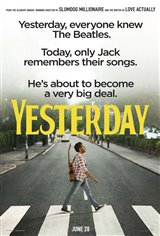 Yesterday
| 109 Reviews
Write a Review
In Theaters: June 28, 2019
On DVD/Blu-ray: September 24, 2019
4.44/5
Based on 312 votes and 109 reviews.
Please rate between 1 to 5 stars
Showing 51-60 of 109 reviews
July 13, 2019
Being so "Superheroed out" by the mass productions of the Marvel/DC films, my husband and I have not been to a movie night out for a long while and we "cried" for something that stands out like "Yesterday". This film is a breath of fresh air and we totally enjoyed it. The premise is so simple and innocent, yet it sure gives me a rich feeling of a story filled with sensations. The two main characters are cute, sweet and funny; the music is amazingly good, even though I am NOT a Beatle fan at all (never was) and my husband is NOT a music person. We also appreciated the acting of Himesh Patel and Lily James for their excellent acting along with the wonderful supporting actors. Ed Sheeran certainly is a bonus, I love his singing and music. If I could, I would give it way more than 5 stars … like all the stars in the sky! Thank you, Universal Pictures, for providing such a great enjoyment!
July 12, 2019
Being British I enjoyed seeing familiar places and people. It could have been good in a poignant sort of way but the directing was clumsy and inept. It does have some charm, and the concept was good. I give it three stars. Male lead wasn't up to it.
July 12, 2019
Best movie of the year so far!!!!
July 12, 2019
I loved the movie!
July 12, 2019
The whole movie. I loved it.
July 12, 2019
Outstanding, albeit somewhat implausible, but makes a great movie premise….mandatory viewing for Beatles folks.....makes you want to see Beatles' LOVE in LV again!! Terrific work by Boyle, again.
July 11, 2019
Film trivialized an entire generation, not to mention its best minds. Mixes science fiction premises with romantic comedy. It had its moments, but I just could not get on board.
July 11, 2019
Concept is genius. Love that other items were included as missing - such as cigarettes, Coke, etc. Love that it wasn't necessarily the Fab Four as a group, but rather the songs themselves being given the credit they deserve... however I AM HUGE a Paul fan!
July 11, 2019
I loved this movie. What a different idea - and worth every penny. Great acting and singing. I'm so glad I went. I highly recommend it.