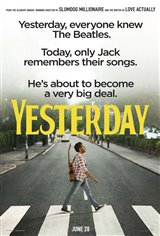 Yesterday
| 109 Reviews
Write a Review
In Theaters: June 28, 2019
On DVD/Blu-ray: September 24, 2019
4.44/5
Based on 312 votes and 109 reviews.
Please rate between 1 to 5 stars
Showing 21-30 of 109 reviews
July 28, 2019
Finally a movie worth seeing. Had a great story and loved all of it!
July 27, 2019
Its not as predictable as most tend to be.
July 26, 2019
Very entertaining and heart warming
July 26, 2019
Guaranteed to have you walking out afterward with a big smile.
July 25, 2019
Great music to say the least.
July 25, 2019
Wonderful movie. Much better than reviews. Great premise. Very funny. It is like hearing the songs for the first time in this movie. Surprise ending too. Well written and believable. I loved it.
July 24, 2019
Absolutely LOVED LOVED LOVED this movie. It was a feel good funny romp. Thank God and the Goddess the Beatles are all they are....so much fun.
July 23, 2019
Only movie in a looong time that I've wanted to see more than once. I saw it twice, it was even better the second time, so now I have to see it at least once more, it's such a feel good movie!
July 23, 2019
5 Stars? Seriously? Who is giving this 5 stars? Great acting? Where? The review/ratings here taught me not to give any credibility to movie reviews ...the story line was ridiculous. Very disappointing especially seeing such good ratings.
July 23, 2019
I wants to see this because I am a huge and forever Beatles fan. I was so disappointed. I thought it was awful. Really weak plot, so many things went unanswered or didn't make sense. It was predictable and sappy and didn't even really make good use of the second to none Beatles library. Do yourself a favor-skip this and see the brilliant Hard Day's Night.