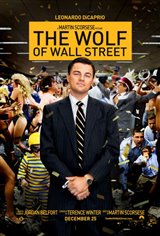 The Wolf of Wall Street
155 Reviews
|
Write a Review
In Theaters: December 25, 2013
R | Drama | 3h 0m
2.96/5
Based on 386 votes and 155 reviews.
33.70%

13.59%

8.70%

2.72%

41.30%
Please rate between 1 to 5 stars
Showing 1-10 of 155 reviews
August 31, 2015
Great movie! Loved the cast and script.
September 25, 2014
Based on the ratings and reviews people either loved this movie or hated it. For me, the movie falls somewhere in the middle. It is a good movie, but not great. The acting was pretty good, but the movie was way too long. The same thing could have been accomplished in a lot less time. Also, I found the narration unnecessary and annoying.
May 15, 2014
Disgusting.. Remove some of your reviews; they are just a joke. There's no way this is suitable for children. It's a put on. This is the worst, most disgusting movie I have ever seen in my whole life. It is totally pornographic and profane. I have lost all respect for Scorsese and DiCaprio.
March 30, 2014
Margot Robbie hot and sexy !!!!!!!!!!!!!!!!!!!!!
March 29, 2014
Awesome movie! Totally not what we were expecting- great movie night !
March 28, 2014
Loved it!!
March 26, 2014
loved it, not for children
March 25, 2014
decent movie that would have been better if it was less than 2 hrs long.
March 22, 2014
excellent movie, but for the over 18's !
March 15, 2014
Not worth seeing.