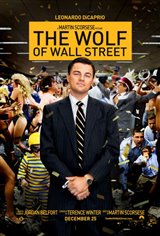 The Wolf of Wall Street
155 Reviews
|
Write a Review
In Theaters: December 25, 2013
R | Drama | 3h 0m
2.96/5
Based on 386 votes and 155 reviews.
33.70%

13.59%

8.70%

2.72%

41.30%
Please rate between 1 to 5 stars
Showing 151-155 of 155 reviews
December 26, 2013
Love Leo and Mr. Martin Scorsese work, but I am not sure about this movie. There was something that did not click (the number of loud immature boys-pretending to be grown-ups was annoying). Tooo long and you can feel it, which is never a good thing. Yes the scenomatography is beatufil., but for some odd reason at the same time it looked like a low budget movie - hard to imagine that it would have been. To help you out, imagine a worse version of type of the movie such as "Catch me if you Can" (plus profanity, all the naked ladies all over the place).
December 26, 2013
Garbage, Garbage, Garbage.
December 26, 2013
Actors were terrific. Be aware that there is a lot of profanity, sex and drugs. Another long movie.
December 25, 2013
Fantastic movie from start to finish.
December 23, 2013
Excellent movie. The actors are really good and the story captivating. You need to see it!