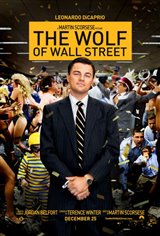 2.96/5
Based on 386 votes and 155 reviews.
Please rate between 1 to 5 stars
Showing 51-60 of 155 reviews
January 16, 2014
This was one of the worst movies I have seen. I do not know why I stayed maybe because I thought it would get better. I expected with Leonardo the movie would be worthy of watching. do not waste your money .Pure waste of time and out tickets were free.
January 16, 2014
Terrible acting! If he wasn't screwing people for money, he was screwing people - literally! Can't believe he is up for an Oscar for this movie - no comparison to some of his other films. Terrible story!
January 16, 2014
Brilliant!
January 14, 2014
It was a great movie! Yes a lot of drugs and sex but it was great! Don't listen to the prudes that say its terrible. I went to see it with my sister and we both loved it! Great acting!
January 14, 2014
superb acting. Leonardo DiCaprio knocked it out of the park. Surprisingly hilarious as well. Do not let the negative reviews sway you from watching this movie, see for yourself, you will not regret it
January 13, 2014
I wish more thought would go into the dialogue and story, than just a constant focus on the women. As a young woman I am so tired of going to movies and feeling uncomfortable. Nudity is fine, I enjoy it when it's tasteful and adds to the plot, but just why does it have to be so overwhelming, and seems to be the only allure to movies these days. My girlfriends and I walked out.
January 13, 2014
one of the most pathetic movies made. Save your money and the huge total of 3 long, gruelling hours of your life that you can never get back. If that is all Hollywood offers we are in serious trouble. Yes, it might be about a "real" person, seriously, someone should have put him out of his misery
January 12, 2014
Not worth your money. The story could of been told not so explicitly.
January 12, 2014
Strongly suggest you avoid this movie. Every other word is an F shot or worse. If the actors are not snorting cocaine or involved in obscene acts of sex, they are drunk and popping pills. Why not act? why show such depravity except for shock. Please find another movie where you leave feeling the world is a good place.