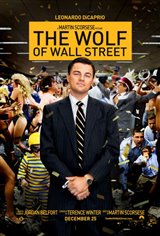 2.96/5
Based on 386 votes and 155 reviews.
Please rate between 1 to 5 stars
Showing 31-40 of 155 reviews
January 26, 2014
Love it!, funny as funny it can be and Leo was outstanding!!
January 25, 2014
I didn't like it, I had to walk out from this movie. I just couldn't watch it.
January 25, 2014
DO NOT GO SEE Terrible Movie. Nothing but porn, bad movie.... Absolute garbage.
January 24, 2014
We took the entire family and loved it.
January 23, 2014
Just saw the film today. It is a honest portrayal of what went on in Belfort's life, the drugs, sex, corruption everything to excess. Lots of Scorsese's magic and DiCaprio excellent. For those who found it to have too much sex, nudity, swearing etc. stop burying your head in the sand, people can do awful things. Belfort has turned his life around after losing everything which likely took more guts than the excesses and deception.
January 23, 2014
It is sad when the only thing coming to theatres is profanity! Upsetting to see and hear what Hollywood thinks is entertainment. If you are offended by profanity this is definitely a movie you should avoid!!!
January 23, 2014
I absolutely loved this movie, my husband and I will be seeing it again. As always Leo did it again! Yes, there is quite a bit of nudity and obscene language but it is reality. If you don't like having a reality check about extreme lifestyles this is not for you. All in all I will be buying it once it comes out!
January 22, 2014
Every second word is F***, lots of graphic sex scenes and drugs. No real story line. Worst movie I have seen in ages
January 22, 2014
Nice satirical comedy. We must think of the consequences of our behaviour. The American dream is well presented in this film. The American dream is to be rich and when we want to, we can make it. In this world, everyone wants to make a fortune. Everyone can become rich by working his mind. In this film, we are shown the art of persuasion. I liked how to convince someone in five minutes, the art of being a "seller"; when you know the tactics, we can sell everything. The life of brokers at Wall Street is represented in a funny way and shows us that when the need is to make money too fast, there may be slippage.
January 21, 2014
This movie would make pornography blush. Absolute garbage