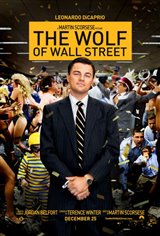 2.96/5
Based on 386 votes and 155 reviews.
Please rate between 1 to 5 stars
Showing 21-30 of 155 reviews
February 11, 2014
I usually love Scorsese's movies. Can't say I loved this one for the sheer unending debauchery. I found it hard to watch. However I think Scorsese was holding up a mirror in a sense to the criminality and soul-less sorts that these people were and still are on Wall St. DeCaprio called it a real life 'Calligula'.
February 7, 2014
this movie made me incredibly uncomfortable and i spent 2.5 hours of it sitting out in the lobby of the theatre instead of watching the movie. the trailers are incredible misleading and i didn't expect it to be so misogynist.
February 7, 2014
We left in an hour it was so bad. The actors did well, but the movie was awful. Don't waste your money.
February 5, 2014
Save your butt cheeks and arrive at least an hour after the show starts. Nothing to be gained suffering through sex, drugs, F this and F that. Leonardo has stooped to new lows in his role glorifying the dirty world of stockbrokers and one would wonder if this will further or detract from his acting career.
February 3, 2014
over-rated junk
January 31, 2014
Pretend to show the dark side of the abuse of drugs, power and ego... no much sense at the end... too much
January 30, 2014
Best movie seen in years! And I seen a lot.
January 28, 2014
Terrible movie we walked out 30 minutes in
January 26, 2014
what a waste of time. Swearing didn't bother me and neither did the nudity. Slow moving movie about uninteresting characters. If you must watch download a screener otherwise the producers are the ones ripping you off.
January 26, 2014
Nudity didn't bother me, swearing didn't really bother me even though many times I came away with the impression the director put the swearing in even though it wasn't needed. It really boils down to a poorly told story about an uninteresting person who, along with the rest of his friends in the movie, have no redeeming qualities. I found the movie overly long and tedious and hoping it would end sooner than it did. Hard earned money mis-spent.