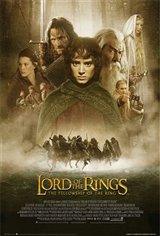 The Lord of the Rings: The Fellowship of the Ring
4.66/5
Based on 102060 votes and 1213 reviews.
Please rate between 1 to 5 stars
Showing 21-30 of 1213 reviews
March 3, 2006
I`m a late "Bloomer" to the LOTR Triology. My hubby introduced me to the movies and now I`m about half way through reading "The Return of the King". Like one fan said in their comments here, I too NEVER thought I`d EVER get into this kind of fantasy. Now, like yet another fan here put it I can NOT get ENOUGH of it!! I only watched "The Fellowship" over a year ago for the first time, then again just before this past Christmas. Since then, I started on the books (including "The Hobbit") AND have watched "The Fellowship" twice, "The Two Towers" twice and "The Return of the King" once--so far! I feel the second time coming on real soon now!
February 26, 2006
I thought it was awesome.Frodo is a total hunk,i would so date him.
January 20, 2006
WOW how anyone one can think this movie was horrible it was absolutly amazing I loved every minute of it. I`ve watched this movie a billion times and never get tired of it.
December 28, 2005
I really in enjoyed the movie, there was a lot of action in the movie.
October 1, 2005
By far the greatest trilogy to ever touch the earth!!!!!!!!!!
September 17, 2005
amazing....
August 18, 2005
The Lord of the Rings Trilogy is the Greatest movie ever made!
August 11, 2005
the begining of a timeless trilogy that puts star wars to shame! i cant seem to get enough of this movie. you almost feel like you are one of the charactors and that is a treat in itself.