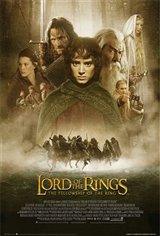 The Lord of the Rings: The Fellowship of the Ring
4.66/5
Based on 102060 votes and 1213 reviews.
Please rate between 1 to 5 stars
Showing 51-60 of 1213 reviews
March 21, 2004
This is my favorite movie of all time. Every time I watch it, my breath is taken away. An instant classic that not only has epic battle sequences, but an outstanding music score. Ontop of that, this is just a beautiful movie to look at.
March 11, 2004
I think that the Lord of the Rings is absolutely AWESOME!!! FABULOUS!! ALL TOO GREAT!!! BEST MOVIE EVER!!! I`v watched it at LEAST 24 times now and I know the whole movie by heart - and I`m not kidding!! I think that the actors did a fantasic job displaying the characters. J.R.R. Tolkien would be proud!!!
February 23, 2004
It was amazing!!! I almost have the entire thing memorized! I`m guessing that by now I`ve probably seen the movie a total of at least 20 times!!!
February 12, 2004
it is an amazing movie . the movie isn`t boring . elijah wood and orlando bloom ar so HOTTTT . i love them !!!!!!!!!
January 21, 2004
I think that LOTR:The fellowship of the ring was the best film I`ve ever seen. I saw it 10 times and I didn`t get bored. I love it
January 17, 2004
I think it was awesome and the best yet out of all three.Smeagle was real cool.The actors out did themselves. A+++++++++
January 11, 2004
It was the best. I saw each one in theaters at least twice! I hope Peter Jackson Makes The Hobbit. I have a cartoon of the Hobbit and watched it many times. Even the book too!
January 1, 2004
I agree with the writer who said...IT SUCKS SO MUCH I HOPE THEY NEVER MAKE ANOTHER ONE
December 22, 2003
excellent movie - it stuck closely to the book upon which it was based.
December 13, 2003
IT SUCK SO MUCH I HOPE THEY NEVER MAKE ANOTHER ONE