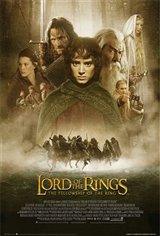 The Lord of the Rings: The Fellowship of the Ring
4.66/5
Based on 102060 votes and 1213 reviews.
Please rate between 1 to 5 stars
Showing 41-50 of 1213 reviews
September 6, 2004
It was good, but Return of the King was better
August 28, 2004
IT`S THE BEST MOVIE I EVER SAW!!!!!I Like it!!!!
August 23, 2004
it iz the best movie i have ever seen!!!!!!!!!!!!!!!!!!!!!!!!!!!!!!!!! i so love it and legolas is so hot!!!!!!!!!!!!!!!!!!!!!!!!!!!!! i love orlando bloom!!!!!!!!!!!!!!!!!
August 11, 2004
It was totally cool..........the best movie of it`s year!!
July 5, 2004
Superb. magnificent, brilliant. I LOVED it. It`s the best movie I have ever seen. I love Orlando. Elijha, Viggo, Billy, Sean.B,and Sean.A. I have never really been crazy about movie`s and actor`s before but this is amazing. I really hope they make the hobbit.
June 27, 2004
its the best movie of all time!!
May 24, 2004
I had never even heard of this movie or the books before in my life. And I was so impressed and struck after viewing it. I never even really liked fantasy before. But this movie...The landscapes, the architecture, the history; it`s amazing. J.R.R. Tolkien is the genius behind the book and Peter Jackson is most certainly a genius behind the movies. I didn`t know a lot of the actors, and they were all so good and they all had a unique and strong personnality. No other movie (unless it be in the LOTR trilogy) has made such a difference in my life.
April 27, 2004
the Fellowship of the Ring last on the best Lord of the Ring movies. I a totaly crazy about all three Lord of the Rings movies they are the best movies i have ever seen.
April 10, 2004
these three movies have changed the way i think about movies they were absolutly amazing thank you peter jackson
April 7, 2004
i think this is the best one yet!!