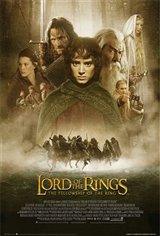 The Lord of the Rings: The Fellowship of the Ring
1213 Reviews
|
Write a Review
In Theaters: December 19, 2001
4.66/5
Based on 102060 votes and 1213 reviews.
90.64%

0.49%

0.50%

0.51%

7.86%
Please rate between 1 to 5 stars
Showing 11-20 of 1213 reviews
August 26, 2006
Excellent movie. I quite enjoyed it as well as reading the book.
August 21, 2006
One Word(well actually a few): The Lord of the Rings are the best films ever made.
August 20, 2006
gimli kicks butt
July 31, 2006
i loved this movie and can`t wait to see the next one. they did a great job!!!
July 31, 2006
it was a really good movie
July 18, 2006
Ian Mckellen was really good as gandalf
June 27, 2006
ORLANDO BLOOM IS SOOOOOOOOOO HOT I LOVE HOW HE ACTED IN LORD OF THE RINGS 1,2,AND 3 HE PLAYED AN ELF CALLED LEGOLAS HE IS SO COOL I WISH I COULD MEET HIM BECAUSE I SAW ALL HIS MOVIES AND I CAN`T WAIT TO SEE PIRATES OF THE CARRIBEAN 2 WITH JONNY DEPP AND ORLANDO BLOOM AND THAT MEANS DOUBLE TROUBLE!!!!!!!I LOVE YOU ORLANDO!!!!!!!!!!!!!! CRISTABEL
June 25, 2006
orlando bloom looked so cute in his elf costume...
June 19, 2006
I can`t believe how long I`ve waited for this to become a great movie! Now all I can say is WELL DONE!
May 26, 2006
i hated it