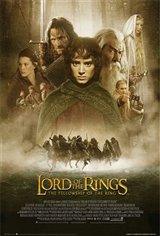 The Lord of the Rings: The Fellowship of the Ring
4.66/5
Based on 102060 votes and 1213 reviews.
Please rate between 1 to 5 stars
Showing 31-40 of 1213 reviews
August 2, 2005
It can be said the best movies ever seen. It is an epic!
June 25, 2005
This movie was absolutely awesome. The acting was wonderful, the whole story-line was carefully producted. I can`t wait to see Lord of The Rings: Return of The King. Let`s just hope that they`ll make a movie for the Kings.
June 15, 2005
I think they`re the best movies ever made!!! I gave it 5 stars
April 20, 2005
Absolutly Outstanding!! The scenery in this film desicribed the locations in the book farely well. Understanding of course that Peter did not get to work with Mr. Tolkien (Because of death) on the project therfore he didn`t know what was in his mind. Peter Jackson had to make it up along side Fran Walsh and all the other producers and co-workers. I think they did an amazing job and matched the book very intelligently. Of course alot of the credit goes to the incredible work of the actors/actresses. Special congrats and thanks to: Sir Ian Mckellen, Elijah Wood, Viggo Mortensen, John Ryes-Davies, Orlando Bloom, Christopher Lee, Sean Bean, Sea
April 20, 2005
Lord of the Rings is an amazing movie with breath-talking scenes and packed with lots of great and exciting action! If you haven`t seen this movie (or any of the other two) then you dont`t know what you`re missing. GO WATCH IT!! By the way, Sir Ian Murray Mckelln rocks!!
March 1, 2005
I loved Lord of the Rings. Especially Orlando Bloom. Yummy!
February 25, 2005
It`s with the rest of the triologie the best film and book ever!!!
January 31, 2005
the lord of the rings is the best movie ever there is no challange, nothing comes near this epic movie
January 14, 2005
i loved the movie its really good!!!!!!!!!
October 17, 2004
Pippin = the love of my life