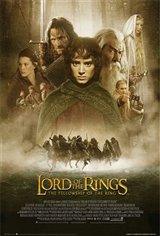 The Lord of the Rings: The Fellowship of the Ring
4.66/5
Based on 102060 votes and 1213 reviews.
Please rate between 1 to 5 stars
Showing 1-10 of 1213 reviews
January 1, 2013
Gandalf doesn't want the ring but he doesn't want anyone else to have it, either. I think he's being difficult just to spite everyone.
December 30, 2012
Why didn't Gandalf want the Balrog to pass?
May 27, 2008
Greatest and will always be the Greatest EVER!!!!!
January 7, 2008
My favourite movie of all time.
June 4, 2007
Dragged on and felt like hours. Could'nt waite to leave the theatres. The 2nd installemnt in the series was sucky too,bearly no action,only talking,and walking,etc. Lord Of The Rings:The Return Of The Rings was completely AMZING! Super-action packed,bloody,had a good story,and completely blowed me away! Overall,a good movie series!!
March 4, 2007
Very fine movie with characters one cares about. Excellent production values, and interesting plot line.
March 2, 2007
This movie wqas so well done, acting, directing, special affects....I would see it more than once & bring others to it, or give them movie passes as HB gifts, etc. ....Thanks - a lot of hard work went into this movie & it truly shows...
September 30, 2006
This is my favourite movie of all time, I love the special effects and animation, extremely intense. I love it, I will never tire watching Lord of the Rings.
September 9, 2006
the best movie ever made was the three part Lord of the Rings.
August 27, 2006
The one movie to rule them all. Hurry you must watch this masterpiece