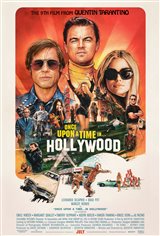 Once Upon a Time in Hollywood
| 430 Reviews
Write a Review
In Theaters: July 26, 2019
On DVD/Blu-ray: December 10, 2019
3.37/5
Based on 1322 votes and 430 reviews.
Please rate between 1 to 5 stars
Showing 31-40 of 430 reviews
October 25, 2019
My brother & I walked out @ end of movie & my niece walked out behind us (we didn't know she was there also) saying "we knew that was you guys laughing down there". Really a fun movie- don't let the stick in the muds talk you out of it. It doesn't glorify anything but entertainment. My 18 yr old son saw the following week & loved it too.
October 25, 2019
Best Tarantino movie since Pulp Fiction. The chemistry between Pitt and DiCaprio is magic. Anyone who didn't like this movie probably smoked that cigarette that Brad a Pitt smoked toward the end of the movie. If you didn't like Pulp Fiction don't go. Surprise ending! Kept me on the edge of my seat the entire movie. A+++. Bravo!
October 25, 2019
No imagination, weak plot, actors just collected a cheque for nothing. Next time I will skip the movie and not be so bored.
October 24, 2019
Very boring could have been so much more. Hard to believe this was the work of professional film makers.
October 23, 2019
An excellent movie. Brad Pit was superb as was Leonardo DiCaprio. Set in the late 60's, costuming and cars were outstanding and made it fun to watch despite the disturbing issues. Go see it, but know the history!
September 30, 2019
One of the best movies I've seen (and in the actual 1960s, I was a teenaged Bergman enthusiast). If you weren't there in the 60s (or don't remember them - 60s joke) or don't know a lot about the cultural references (e.g. Once Upon a Time in the West, for starters), you can still like the movie, but you might want to see it, then find out more about the times, the people and places and the events, then see it again. I don't care about Tarentino (or the stars) one way or the other, and had to take the ending for what it was, knowing what it was likely to be. Everything else about the movie was outstanding, in the opinion of both my partner and me.
September 27, 2019
Excellent movie! Brad Pitt and Leonardo Decaprio are like brothers and brilliant actors and funny from the start. I saw this movie 5 times!
September 26, 2019
no redeeming qualities we walked out....no story line just alot of foul language did not expect those actors to be in a crappy movie like this rate ---
September 26, 2019
Deceiving content. Not at all good. Sorry we wasted our time and money. Should have asked for a refund.
September 22, 2019
Fantastic recreation of summer 1969 (which may be a big part of its appeal for some).It DOES run long--I'd have liked to have spent less time at Spahn Ranch and more in Hollywood, but apart from that what a beautiful fairy-tale, even with the somewhat excessive violence.