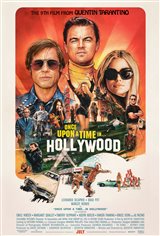 Once Upon a Time in Hollywood
| 430 Reviews
Write a Review
In Theaters: July 26, 2019
On DVD/Blu-ray: December 10, 2019
3.37/5
Based on 1322 votes and 430 reviews.
Please rate between 1 to 5 stars
Showing 41-50 of 430 reviews
September 21, 2019
Boring. No real story. Just showcase for Leo and PItts. Do not waste your money.
September 21, 2019
A great work. A love letter to cinema and setting. Its structure and pacing makes it seem like pop-art from Roberto Rossellini. Obviously not for everyone. And yeah, the one person who keeps posting that the film glorifies Manson is clearly a troll who hasn't watched the film. This does not glorify Charles Manson and the family AT ALL.
September 20, 2019
Liked everything about this film. Not for everyone. Absolutely does NOT glorify Manson. Portrays him and his acolyas what they were: creepy lost deranged homicidal malcontents. Ends the way we wish it had ended in real life. Also a beautiful tribute to Sharon Tate. Quentin got approval from Sharon's sister to do this. A work of art and one of the best films I've ever seen. Like him or not Tarantino is a genius.
September 17, 2019
Engrossing and enjoyable. A fun reinvention of history. Can that one whack-job here stop posting the same review over and over? This movie does NOT glorify Manson, and as horrible Sharon Tate's fate was, her unborn child was NOT cut from her. Whole lotta fake info passed here.
September 17, 2019
a wacky dumb funny movie, enjoyed it. a bit long though. would have been better if it was a tad shorter. ending was crazy, best part.
September 17, 2019
This Movie forced 1 star rating. Subtract 1 star from my review and you have the accurate rating. This movie was boring. not to mention glorifies Charles Manson who MURDERED Sharon Tate and cut her unborn baby from her still warm body.
September 16, 2019
best movie ever ever
September 16, 2019
It was everything I expected from Tarantino, quirky and fun all the way. I liked it start to finish. Decaprio was a riot!
September 16, 2019
If it had zero stars it would not be enough! Worst movie of a lifetime
September 16, 2019
I hope this stays in the theatres for ever . watch it every day, you should too !!!