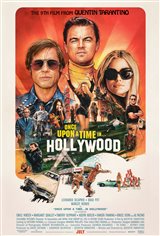 Once Upon a Time in Hollywood
| 430 Reviews
Write a Review
In Theaters: July 26, 2019
On DVD/Blu-ray: December 10, 2019
3.37/5
Based on 1322 votes and 430 reviews.
Please rate between 1 to 5 stars
Showing 11-20 of 430 reviews
February 2, 2020
Don't listen to the others. This is one of the best Tarantino movies ever.
January 29, 2020
This is not just the best movie of the year, it is one of the best movies I have ever seen.
January 26, 2020
Wayyyy tooo long....just terrible
January 23, 2020
Brad Pitt was sensational. A very well-written story set in the watershed year of 1969 in La La land. Radio clips from 93 KHJ am radio in Los Angeles are intertwined very creatively. We even meet The Manson Family at the Spahn Movie Ranch (recreation). A must see.
January 22, 2020
Movie way too long. Not Tarantino's best.
January 18, 2020
The kind of movie you wish you hadn't seen so that you could experience it for the first time again. A masterpiece!
January 16, 2020
This movie is one of Tarantino's best. I have seen it 4 times and will watch it anytime I need to feel happy. It is incredibly entertaining and gets better with each viewing. Can't wait to see it again.
January 14, 2020
A truly great film. An engrossing character piece, and an uncannily detain evocation of a time and place frozen in the history of both nostalgia and loathing. Brilliant! The many "reviews" here complaining of the film exploiting the Manson Killing were obviously written by people (or more likely one person) who has NOT seen the film and these reviews should be taken down. 'Shane in Hollywood' ?!?!? Come back, Alan Ladd, come back! (Except he's not in this film.)
January 11, 2020
Making a Buck off Sharon Tate's Murder, Shane in Hollywood
January 6, 2020
How did this movie receive a Golden Globe? Were ratings not reviewed?