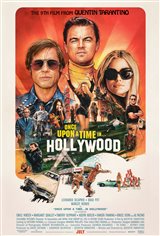 Once Upon a Time in Hollywood
430 Reviews
|
Write a Review
In Theaters: July 26, 2019
On DVD/Blu-ray: December 10, 2019
3.37/5
Based on 1322 votes and 430 reviews.
49.39%

8.70%

3.83%

5.74%

32.35%
Please rate between 1 to 5 stars
Showing 21-30 of 430 reviews
January 6, 2020
A big warm cinematic love letter for audiences from QT. This is his best film.
December 25, 2019
All in all,, not bad, however its a very disappointing ending,, looks like Tarantino just gave up and slapped together whatever he could,, no awards for this one.
December 13, 2019
Sharion Tate was Murdered, how can we exploit this. Hollywood should be ashamed
December 2, 2019
Worst movie of the year. I hope that this is Tarintino's last movie.
November 4, 2019
I wanted to give 18 stars
November 4, 2019
I have watched this 53 times so should you
October 30, 2019
Acting was phenomenal! Story line well developed and directed.
October 28, 2019
i watched this everyday and twice on sunday. you should too
October 28, 2019
Greatest Movie in the History of Movies, deserve 58 stars
October 26, 2019
I was a teen in this period and really liked the back ground scenery of the time, cars buildings the whole shebang! The characters were interesting, with the cameos buy other actors and the two guys as they make their way through the two year time period.