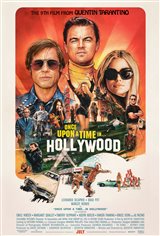 Once Upon a Time in Hollywood
| 430 Reviews
Write a Review
In Theaters: July 26, 2019
On DVD/Blu-ray: December 10, 2019
3.37/5
Based on 1322 votes and 430 reviews.
Please rate between 1 to 5 stars
Showing 51-60 of 430 reviews
September 15, 2019
Overrated
September 14, 2019
My favorite Tarantino movie since Pulp Fiction- It's a sunny, funny 60's set piece capturing the clothes, cars, radio, TV shows/movies, news, furniture, music (especially the music) and mood of the LA in the late 60s. If ur into 60s AM Radio as well as grooving pop-psych/freak-beat... damn u will love this movie! I cant say anything more coz I don't wanna spoil it but if u have ANY interest in the 1960s u gotta see it!
September 14, 2019
Pure garbage Terrantino needs to retire An insult to intelligence Slow, boring and mostly non sensical. Only good thing about is was some of the music. Run, don't walk, away from this one.
September 13, 2019
This movie is not going to be for everyone! Slow burn but worth every minute!
September 12, 2019
watched it 200 times, I can't wait to see it again
September 12, 2019
Saw this movie 3 times at AMCs - totally loved it each time for different reasons. Great cast, acting, directing, cinematography and vintage background!!
September 12, 2019
It was awesome...great cast. Great music. Great theme...it was ALL there!!!
September 11, 2019
Music was great. Other than that forget it!,, Boring !,
September 11, 2019
Boring till the last 10min. Waste of my time.
September 11, 2019
Expected a lot more from a Tarantino movie. Where was the humour? Where was the story? Where were the unexpected twists and turns? This was a dud, from start to finish. Regret spending the time and money on this - save yours!