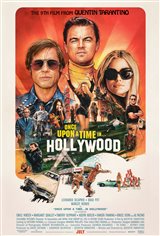 Once Upon a Time in Hollywood
430 Reviews
|
Write a Review
In Theaters: July 26, 2019
On DVD/Blu-ray: December 10, 2019
3.37/5
Based on 1322 votes and 430 reviews.
49.39%

8.70%

3.83%

5.74%

32.35%
Please rate between 1 to 5 stars
Showing 1-10 of 430 reviews
December 22, 2020
Captivating fever dream about second chances and wish fulfillment. Repeat viewings are essential.
April 10, 2020
Whoever gave this movie 4 or 5 stars must have been drunk.
April 10, 2020
Ending was the good part. Just fast forward to the last 40 minutes. One star because it's boring af
March 17, 2020
Enjoyed it overall and did not find it too long like others on here. I was 18 back then so remember the Manson Murders as well as the music from that year so was pleased with the sound track, .Loved the various movie making scenes and the scenery . Also some good laughs . Pitt and DiCaprio as well as Margot Robbie were excellent. The ending was a delight . Who ever gave it 1 star must have been asleep at least, . .
March 5, 2020
Should be renamed Hollywood Milking Manson Murders
March 2, 2020
Like watching a bad documentary about a couple of has beens.
March 1, 2020
creepy and like a bad dream. couldn't be troubled to sit through the whole thing. Who cares or wants to understand why it's art or a masterpiece in other's opinions. Frankly my dear I don't give a damn -
February 29, 2020
Only watched half of it because of brad pitt and that's the only reason
February 26, 2020
Bad, no worse.
February 5, 2020
I think I seen this movie in 1972 at the drive in , it was bad then. where's Peter Fonda and Denis Hopper ??