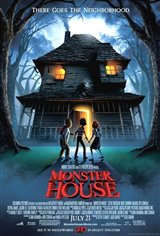 Monster House
130 Reviews
|
Write a Review
In Theaters: July 21, 2006
4.12/5
Based on 1693 votes and 130 reviews.
48.41%

29.37%

13.36%

3.31%

5.56%
Please rate between 1 to 5 stars
Showing 41-50 of 130 reviews
August 14, 2006
Very much liked it wasn`t expecting anything,but was wrong. Was really unique .Loved it
August 14, 2006
A great show
August 13, 2006
Surprisingly Good. Amazing animation!
August 13, 2006
5 minutes into it I asked the kids if they wanted to leave. I hated it from beginning to end. Waste of 91 minutes and $30.
August 13, 2006
all these people are saying this movie is scary but to me this movie is inappropriate for kids under the age of 8 .but for me it was lame
August 13, 2006
My kids can`t get enough of it seen it three times already canm`t wait for it to come on dvd.
August 13, 2006
I thought it was a cute scary movie, the animation was really good, it this movie not been animated I think it would be way to scary
August 13, 2006
Very weak, slow and boring.
August 13, 2006
Just ok, 5 year old was a little scared but liked it.
August 13, 2006
I did not enjoy the movie. Although the animation was good, the characters were outrageous and completely unbelievable. This movie is not for children. It is quite frightening and may appeal to teenagers. This movie is also not fot adults--NO STORYLINE, TOO CORNY--HATEFUL TOWARDS FAT PEOPLE.