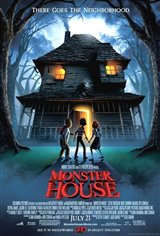 Monster House
130 Reviews
|
Write a Review
In Theaters: July 21, 2006
4.12/5
Based on 1693 votes and 130 reviews.
48.41%

29.37%

13.36%

3.31%

5.56%
Please rate between 1 to 5 stars
Showing 31-40 of 130 reviews
August 22, 2006
My six year old grandson loved it. It was a bit scary but that is what he wanted. I enjoyed as well - older than 6!!
August 21, 2006
Good `tween` and beyond movie! The trailers were well done - they hooked you but definitely didn`t give away the story line.
August 21, 2006
I found Monster House funny/scary at times. It was great and had a good moral lesson of not teasing people who are different.
August 20, 2006
good entertainment
August 19, 2006
Scary fun. Take the kids (not the really young ones, though) to see this flick. You won`t be disappointed. It`s got something for everyone, kids and adults alike.
August 18, 2006
Not bad. But slow and not as funny as expected.
August 16, 2006
thought if was funny,could not keep me eyes off the screen. great job on the movie people.
August 15, 2006
THIS MOVIE WAS NOT FOR THE CHILDREN, AND I DIDNT REALLY CARE FOR IT MUCH EITHER.
August 15, 2006
I loved this movie! I can`t wait to be able to buy it for my son even though he`s only 3 months old. It`s one we`ll enjoy for years to come.
August 14, 2006
scary stuff- i`m impressed!