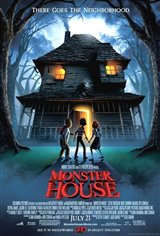 Monster House
130 Reviews
|
Write a Review
In Theaters: July 21, 2006
4.12/5
Based on 1693 votes and 130 reviews.
48.41%

29.37%

13.36%

3.31%

5.56%
Please rate between 1 to 5 stars
Showing 21-30 of 130 reviews
August 25, 2006
GREAT FOR KIDS & PARENTS!!
August 25, 2006
IT WAS GREAT LOTS OF ACTION NICE TO SEE A MOVIE WITHOUT SEX ALWAYS IN IT
August 25, 2006
THIS MOVIE IS NOT FOR VERY YOUNG CHILDREN, THE HOUSE WOULD BE SCARY TO THEM. OTHERWISE, THE STORY IS WELL WRITTEN AND THE ANIMATION IS GOOD. I WENT WITH TWO 13 YEAR OLDS AND WE ALL ENJOYED IT.
August 25, 2006
a good movie to watch with my kids
August 25, 2006
Enjoyable movie for school age children!
August 25, 2006
It was a fun night out. The seemless graphics and rapid story line provided an exciting adventure for the family. Humour was in place for all age ranges. It may be a bit scary for the smaller kids.
August 25, 2006
We went to see Monster House as a 9th birthday party for my daughter. The group of girls was somewhat tense while watching but in all the scenes were balanced with light heartedness so the tension was relieved after a bit. I think that the film was mature for any child under the age of 10 or so and in fact I saw a mother leave with her 5 year old child after about 15 minutes.
August 24, 2006
nice movie
August 22, 2006
A good fun experience for all ages.
August 22, 2006
It was a nice movie.