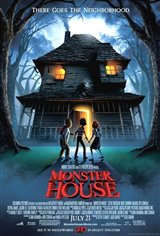 4.12/5
Based on 1693 votes and 130 reviews.
Please rate between 1 to 5 stars
Showing 51-60 of 130 reviews
August 11, 2006
Watching it in 3-D was pretty good, but the images did not really "pop out" at the audience, compared to Spy Kids 3-D. However the movie was very entertaining and the story was well developed. One warning, though, it has some plot points near the end that will be very disturbing/scary for young children. Overall, very good film.
August 11, 2006
Seen it once & that was enough
August 11, 2006
Not bad. After reading the reviews and seeing the names of some of the cast I was expecting something a bit better. It was an okay movie but I wouldn`t rate it as highly as some of the critics` reviews I`ve seen.
August 10, 2006
21 years old now and trying to change it up from all the action-blood-sex movies that are a craze for our age; my friend and i went to see monster house and found a change that was more worthy than we anitcipated. It was funny and takes you back to being a kid in suspense for your animated friends, who now, you can look at and relate to from your own childhood imagination. Good movie for both parents or older siblings to take the younger ones too.
August 10, 2006
I took my 3 sons to the movie and they loved every minute of it!
August 10, 2006
Took 3 children to see this movie and was disappointed. It was not only scary, but had a story line that jumped all over the place. Do not recommend this movie to children under the age of 8. My husband and I thought it was awful and certainly not a "family" movie. 1 star rating
August 10, 2006
I took my son age 6 to watch it and I have to say this was one scary movie for animation. I was even scared. My son had to cover his eyes and ask me to tell him when that part was over but he loved it and wanted to see it again.
August 9, 2006
All of us like it - ages 13 to 46!
August 9, 2006
A good movie for kids my nephew loved it!! Wants to see it again but in 3D.
August 7, 2006
I didn`t expect much and I wasn`t disappointed. Boring....