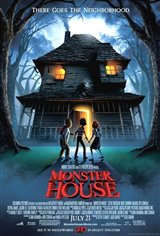 Monster House
130 Reviews
|
Write a Review
In Theaters: July 21, 2006
4.12/5
Based on 1693 votes and 130 reviews.
48.41%

29.37%

13.36%

3.31%

5.56%
Please rate between 1 to 5 stars
Showing 121-130 of 130 reviews
July 21, 2006
Me, and my Girlfriend went to see this Movie earlier tonight, and we thought it was a great Movie with some scares, and a good story behind it. It`s a Movie worth seeing even over and over again. Jason St. Catherine`s Ontario
July 21, 2006
its a terrible movie i took my kid and its very corny and not funny for adults
July 21, 2006
INCREDIBLE!
July 21, 2006
I think Monster House is a really good movie!You may not like it- if you don`t you are a horrible reviewer.The 3D effect is so totally awesome.I would definitley give it 5 stars.I would absolutley love to see Monster House 2. I agree with the critics in the A&E section of "The Toronto Star".
July 21, 2006
I thought it was pretty funny and the animation was excellent..Cause it looked so real..
July 21, 2006
fantastic cgi
July 21, 2006
MONSTER HOUSE IS THE BEST FAMILY FILM OF THE YEAR!!! IT IS FUNNY & SCARY, PERFECT FOR KIDS & ADULTS!!!
July 21, 2006
SURPRIZINGLY A GOOD ENJOYABLE MOVIE. I LAUGHED A FEW TIMES. ITS NOT FOR KIDS THOUGH. MY DAUGHTER WENT WITH ME AND WAS SCARED OUT OF HER MIND AD SHES 7 YEARS OLD.ID SAY KIDS 8 AND UNDER SHOULDNT SEE THIS MOVIE.BEEBS
July 21, 2006
I think it just funny or scary for kids.I think this movieis cool.
July 21, 2006
I was excellent animation, yes that`s what I liked the best, good for children as well as us adults.