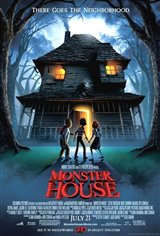 Monster House
130 Reviews
|
Write a Review
In Theaters: July 21, 2006
4.12/5
Based on 1693 votes and 130 reviews.
48.41%

29.37%

13.36%

3.31%

5.56%
Please rate between 1 to 5 stars
Showing 11-20 of 130 reviews
September 27, 2006
it was such a great movie.... i loVED it... (,")(",) cool... fun... nice!!!
September 25, 2006
Its good to watch with family and kids! Fun, creative and nice animation! Good, keep it up!
August 30, 2006
The kids loved it.
August 29, 2006
It was a very good movie. Kid friendly and funny!!
August 28, 2006
This Is The Ultimate Family Movie ! Took my 3 yr old & my 15 yr old, I got more enjoyment than they did, because I got to enjoy both a great picture and their reactions ! Take yourself, Take others !
August 28, 2006
I thought Monster House was very amusing and graphic. I liked it.
August 28, 2006
The plot was a bit more violent than I would have liked.
August 27, 2006
The best animated feature I have seen!
August 26, 2006
Good fun, should stay out till Halloween, at least!! A forty year old cartoon Fan!! :)
August 25, 2006
I took my son to see it and we really enjoyed it. HOWEVER, it was a bit creepier than expected...