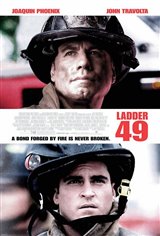 Ladder 49
131 Reviews
|
Write a Review
In Theaters: October 1, 2004
3.9/5
Based on 8050 votes and 131 reviews.
65.69%

4.52%

4.74%

3.86%

21.19%
Please rate between 1 to 5 stars
Showing 51-60 of 131 reviews
November 18, 2004
The most amazing movie ever, SOOOOO sad.
November 17, 2004
ladder 49 was so like totattly i dont what but like under the sea no wait thats spongebob i havent seen ladder 49 but sponge bob the movie was so greatttttttttttttttttttttttttttttttttttttttttttttt!!!!!!!!!!!!!!!!!!!!!!!!!!!!!!!!!!!!!!!!!!!!!!!!!!!!!!!!!!!!!!!!!!!!!!!!!!!!!!!!!!!
November 12, 2004
I thought this movie was incredible!! Excellent story, extremely well acted (especially Joaquin Phoenix). Bring lots of Kleenex!!
November 11, 2004
it was the sadest movie,i smelled the fire burning in my throat as i wachted the trailer.
November 8, 2004
Best movie I have seen in years....A story about life and what really happens!!! I would recommend this for everyone and children will realize what people will do to save lives and help people!!! I will pay full price for a copy of this when it comes out on DVD.
November 8, 2004
The saddest movie i have ever seen but so good!
November 7, 2004
such a good movie
November 7, 2004
Best movie i have seen in a long time!
November 7, 2004
AMAZING! I LOVED IT!!
November 3, 2004
This film was well acted and had a good script but had an unneccessary ending. It needed to be too sad for its own good. I could have done without that. B