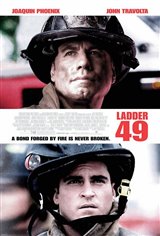 3.9/5
Based on 8050 votes and 131 reviews.
Please rate between 1 to 5 stars
Showing 41-50 of 131 reviews
January 22, 2005
This movie touched my heart *puts hand on heart and salutes*
January 20, 2005
excellent movie
January 18, 2005
in one word brillient
January 16, 2005
OK, I have read some on the reviews, and for the idiots and were going on about some fireman never see a fire in their careers, where the hell are you at, my boyfriend who is a fireman fights about 6 a week, soooo I know how the life of a fireman is, plus i am a volunteer one. We both thought it was a great movie. Our lives are pretty simiular when it comes to the radio goes off you are gone no matter what is going on. A GREAT MOVIE!!!!!!!!!!!!!!!!!!!!!!!!
January 16, 2005
I am a Paramedic and I think that it is a very good movie. Everything in it dealing with family and friends is about a close as you can get to the fire service. The only way you can get real life firefightering is to follow firemen into a burning building with a camera. So far this is the best movie made having to do with the fire service. Can not wait for it to come out on DVD so I can buy it.
January 10, 2005
This movie was incredible! The plot was amazing, the acting was extremely believable(thanks to the great casting), and you will definatly cry at the end! I was still teary-eyed when I left the theatre. Amazing movie! A definite must-see.
December 18, 2004
very touching movie! i loved it..was soo sad:( GREATEST MOVIE
December 3, 2004
What an AMAZING movie!!! It`s a real tear-jurker, but it also has a few good laughs. I loved it! Joaquin is a very talented actor.
November 28, 2004
BEST MOVIE EVERY!!!!!!!!!!!!!!!!!
November 28, 2004
People who are saying that it was boring and had no story well you are sadly mistaken. This was based on the life of a real Fireman, a true story. And also those saying it was a tribute to the firemen who died at 9/11, this was not true. Not that i don`t respect those who died, but the script was written before the 9/11 attack.