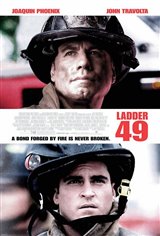 3.9/5
Based on 8050 votes and 131 reviews.
Please rate between 1 to 5 stars
Showing 31-40 of 131 reviews
March 10, 2005
I am a firefighter myself and this is the nearest to the real thing as I`ve ever seen. This movie is wounderful. My wife says that it is so hard for her to watch knowing I go through some of the same dangers. I would like to thank the makers of this film as a firefighter.
March 7, 2005
This movie was soo awesome!! I wish I could buy this movie...man if only i had money!! This movie was like sad...i was soo close to crying!! And I never cry!!!
March 5, 2005
This was a great movie. A lot of excitement and kept you on the edge of your seat during the fire scenes. Exactly what I expected. Brilliant! The only bad thing was the ending, but only because that`s exactly what I didn`t want to happen, but I guess it had to. Still good!
February 26, 2005
very good movie. it is sad but well worth $8.00 to see i saw it 13 times and i never got board of it. it is not funny but it is a good movie to learn a life of a fire fighter and what they have to go through when fighting a fire. i did not cry. for sure buying it when it comes out.
February 23, 2005
Ok, so I cried ... a lot. It was completely predictable, but I still enjoyed the movie. The charatcers were believeable, and Joaquin was just wonderful.
February 19, 2005
Awsome movie...I didn`t cry but it was definately sad!
February 8, 2005
Totally sad and awesome
January 30, 2005
It`s the best movie ever.
January 25, 2005
just fabolous!! i always thought that joaquin phoenix was a great actor , but now i really think he is one of the best!!!! i love it!
January 24, 2005
AWSOME!!!!!!!!!! ~ It made me cry, I have never seen such a amzing movie in my life. I cant wait for the DVD!.