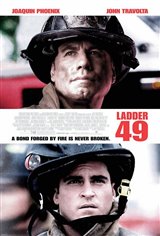 Ladder 49
131 Reviews
|
Write a Review
In Theaters: October 1, 2004
3.9/5
Based on 8050 votes and 131 reviews.
65.69%

4.52%

4.74%

3.86%

21.19%
Please rate between 1 to 5 stars
Showing 21-30 of 131 reviews
March 20, 2005
It was a little boring at times. Not enough of a story to keep a viewer interested. The "fire" scenes were well done, but their just wasn`t enough of a script to make a movie.
March 19, 2005
I am a retired firefighter of 25 years. I was emotionally moved by the movie. It has also stirred emotions in me that I thought were gone when I left the fire department, specifically having an active role with the fire department. Thank you for honoring my brothers in arms.
March 18, 2005
it was the best movie ive seen in a long time. It was so sad, ive watched it 3 times and cried everytime!!!
March 17, 2005
Best Firefighter movie ever.
March 14, 2005
it was a great movie that didn`t give us the feel good ending that most movies today give us it was real an gutsy and really made me appreciate my "brother" the firefighter, it was also nice to not have travolta in the lead role
March 13, 2005
great
March 13, 2005
It was okay, but I was disappointed by the ending.
March 13, 2005
I thought it was a great show, it deals with firefighting very well.
March 11, 2005
Excellent, need I say more!
March 11, 2005
Awesome movie!! The movie was almost dead accurate, I am a firefighter myself and it gave me chills!