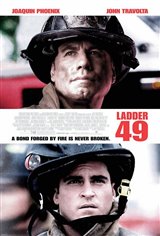 3.9/5
Based on 8050 votes and 131 reviews.
Please rate between 1 to 5 stars
Showing 1-10 of 131 reviews
March 2, 2007
I think Ladder 49 was excellent
February 16, 2007
Love this movie Joaquin Phoenix Was Really Good in it He is the Best actor out There
February 11, 2007
wow what ia great movie all ucan say is wow!!!!!!, the best ever made, soo sad, but amazing, all fire fighters should be saluted
October 12, 2006
I am a fan of Joaquin Phoenix so that`s why I wanted to watch this film in the first place. The trials and tribulations of firefighters does get kind of tiresome. (Seen Backdraft?) But I loved the ending, so I think overall people will like it.
October 7, 2006
No matter how many times I watch Ladder 49, it always bring tears to my eyes. I never knew how much a fire can tear through a family not to mention the destruction it can do to homes and buildings. I commend All the Firefighters of the world.
September 9, 2006
joaquin phoenix is an outstanding actress,one of the best ever,and he gives an excellent performance in this action packed intense drama! this was by far the 2nd best movie ever,i loved it,it was outstanding...nail biting,thrilling,suspensful and the saddest movie ever i saw it in theatre once,and i cried my head off,and now i own it,and i watched it like 12 times,and i still cry amazing movie 5\5
May 20, 2006
the 2nd best movie ever made! the action is excellent..and suspensful.. ive seen ladder 49 now..7 times..and every time i watch it i cry my head off!
March 30, 2006
IT`S THE BEST MOVIE I HAVE SEEN IN MY LIFE!!!!! I ALWAYS RENTED IT...AND NOW I FINALY OWN IT!!...AND I REALLII LOVE JOAQUIN PHOENIX!!!
February 10, 2006
AWSOME!!!!!!!!