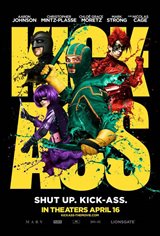 Kick-Ass
225 Reviews
|
Write a Review
In Theaters: April 16, 2010
3.83/5
Based on 867 votes and 225 reviews.
48.54%

21.95%

8.29%

6.34%

14.88%
Please rate between 1 to 5 stars
Showing 41-50 of 225 reviews
July 19, 2010
Kick ass kicks ass!!!! Awesome movie!!
July 19, 2010
It was a great movie with awesome action sequences, very funny moments & a great story line.Both me & my son loved it.
July 18, 2010
very funny
July 18, 2010
Great mix of comedy and action. Worth seeing over and over.
July 17, 2010
fun movie to watch
July 16, 2010
Normally don't like Nicolas Cage but liked him in this role. Like when he is in character as opposed to a tough guy. The little girl superhero was totally "kick - ass". Can't wait to buy the DVD. Would show to all 6 of my nieces. Girl Power all the way!!!
July 16, 2010
Great movie but it is not for young kids.
July 14, 2010
I'm not sure what audience this movie is aimed at-presumably those who regard themselves as inhabitants of a cool milieu. so,we have potty mouthed kis,buckets of gore and irritating characters. This is not my cup of hemlock. I parted company with this flick following cage's training session-you know-where he fired a pistol at his daughter's torso. But for Cage's slice of ham acting,this one is nearly a zero.Oh, WHAT THE HELL-zero stars!
July 14, 2010
good movie. amazing young girl actor
July 14, 2010
I was disappointed as I thought it was going to be a comedy, kept waiting for the big laughs