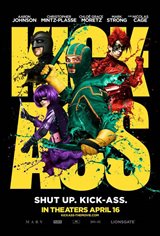 3.83/5
Based on 867 votes and 225 reviews.
Please rate between 1 to 5 stars
Showing 21-30 of 225 reviews
July 28, 2010
The movie was okay but there are so many other better movies, but i would buy the movie and my mom would love it
July 28, 2010
Hilarious. Don't bring your kids.
July 27, 2010
5 STARS PLUS PLUS!!! I LAUGHED SOOOO HARD MY LUNGS STOPPED BREATHING!! BEST COMEDY MOVIE TO DATE!!! I WOULD SEE THIS AGAIN AND AGAIN!!!
July 26, 2010
Shameful piece of filmmaking using violence as childrens' entertainment. Mindless interpretation of a decent comic book makes for surprisingly brain numbing pseudo-entertainment. Poorly conceived notion that could have been improved with a lot less violent content.
July 24, 2010
The title of the movie speaks for itself!
July 24, 2010
This is what's wrong with movies today. An R rated film geared towards kids. Films like this glorify violence without any regard for those watching it. Good story and decent cast are sunk by thoughtless money grab filmmaking mentality. Give your head a shake Matthew Vaughn and get a clue!
July 24, 2010
Kind of like a Kill-Bill but with kids, Kick Ass is an interesting movie. Definitely recommend.
July 23, 2010
Shameful piece of filmmaking using children to entertain in an R rated film. Movies like this prove that money beats scruples any day. Thoughtless fimmaking with no sense of what is really just. Disguising an excuse for violence as entertainment, this film should be put in its place. Not recommended
July 23, 2010
This movie was not exactly what I expected after seeing the trailer - a bit shocking at times in fact. Overall though it was an emotional thrill ride. From sadness to revenge and tenderness to kick ass - it has it all. It's definately worh a look!!
July 23, 2010
A surprise from beginning to end. Not what I had expected at all. It was fantastic!