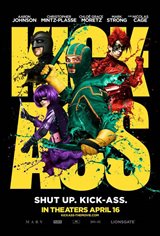 3.83/5
Based on 867 votes and 225 reviews.
Please rate between 1 to 5 stars
Showing 51-60 of 225 reviews
July 13, 2010
great action with some nerdy humour. awesome characters
July 13, 2010
really funny movie , not at all waht i expected from the trailers
July 13, 2010
Holy Crap!!!!! What can i say that could even start to explain how utterly amazing this movie is? This movie goes from being a no holds bar action movie all the way to a cude and lude comedey that keeps you laughing so hard you will lose weight. I was completely surprised by all the stuff they were able to accomplish in this movie. I dont want to give too much away but all i have to say is i have never seen a little kid kick so much ass that it would make me want to turn the other way if i met her in the middle of the street. Trust me once you see the movie you will know what I am saying. Please go see it now and be prepared to watch several asses get kicked.
July 12, 2010
A different type of growing up teenage movie. Lot of action to keep you entertained.
July 12, 2010
This movie was highly enjoyable and really connected with me (average guy becomes super hero). What was shocking was how violent it was. At times I squirmed in my seat as I watched an 8-10 year old stabbing/shooting bad-guys in the head and cutting off heads. Not for the faint-at-heart but one of the best action movies of the year.
July 12, 2010
Phenomenal, though not for the squeamish. The language is offensive, the humour dark, and the costumes curious, but this movie pulls off the age-old 'what-if' scenario of real-life superheroes very well. Definitely worth a see if this type of dark humour is up your alley.
July 11, 2010
A lot of violence - I had to cover my eyes.
July 10, 2010
Definitely a sleeper hit for 2010. Drew alot of positive reviews/praise from fans and critics alike ... and delivered on its promise and definitely "kicked ass", as the title might suggest. Saw it with friends in mid-spring, and the whole theatre enjoyed it. Plenty of laughs and good fun.
July 9, 2010
Good. Lots better than I expected. Good Value.
July 9, 2010
Hilarious and yes not for younger kids.