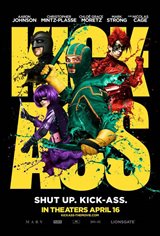 3.83/5
Based on 867 votes and 225 reviews.
Please rate between 1 to 5 stars
Showing 1-10 of 225 reviews
December 24, 2021
Fun movie. Hit-Girl is the whole show here. Delivers action, gets the blood pumping and the compass pointing north and pisses off the prudes! Go girl!
May 6, 2018
Disgusting annoying brat was supposed to be cool. LOL! I hate overpowered annoying kids in the movies. It´s not funny, it´s just stupid. Garbage.
January 29, 2017
Looking through these reviews there are many pans that say "Shameful film geared toward children." These reviews were all obviously written by one disgruntled prude. This was a fun and energetic actioner and it is NOT geared toward children. It's a cool flick for cool people. Uncool people can always watch movies like GOD'S NOT DEAD or some such thing.
October 10, 2010
Fantastic movie!! Great to watch and very funny! Having said that if you are easily offended (language/violence) then you should steer clear. If not, sit back and enjoy an excellent performance from Nicolas Cage as Big Daddy, who, for those of you who can remember the original Batman tv series will certainly bring a smile to your face! Also, Chloe Moretz is awesome as Hit Girl, certainly has a great future ahead of her! So, if you can sit back and enjoy a tongue in cheek movie without being easily offended, then dig out the popcorn and your favorite drink and enjoy!
September 27, 2010
AWFUL!
September 13, 2010
fun and entertaining
September 9, 2010
Fantastic!!!!!!
August 31, 2010
A really fun, entertaining movie. I loved the comedy, the storyline and, yes while some of the action was at times a bit too much, it was also fun. A fun movie. Only problem was Nick Cage - he is just a bad actor.
August 29, 2010
I was surprised as to how much I enjoyed this film. I real "crowd pleaser". I thought the story was original, the acting (other than N. Cage) was perfect, and, overall, it was simply a fun movie. I plan to see it again and again.
July 30, 2010
a sad look at what the world would be like if all the comic geeks united and became super heroes. the story is weak and full of holes and the actors have no chemistry with one another.