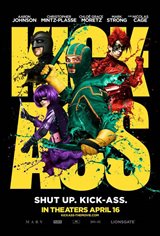 3.83/5
Based on 867 votes and 225 reviews.
Please rate between 1 to 5 stars
Showing 11-20 of 225 reviews
July 29, 2010
Excellent movie. I loved it. I want more.
July 29, 2010
This movie was NOT time well wasted. Don't waste your time...that's all I can say.
July 29, 2010
H.I.L.A.R.I.O.U.S. ... Nicolas Cage and Chloe Moretz were an amazing duo and made me laugh longer than I had in a long time.
July 29, 2010
I thought it was a good movie. I just think it's a little to graphic for kids though.
July 29, 2010
hysterical !! definitely one to buy !
July 29, 2010
A great movie. It makes you laugh, makes you sad and it makes you feel inspired. Great overall. Did not expect it to be so good.
July 29, 2010
Not what I expected, but very good.
July 28, 2010
Loved this movie. Thought it was great fun and I haven't enjoyed Nicolas Cage in years. Definitely recommend to anyone who has a twisted sense of humour and enjoys action/superhero films. Great Fun.
July 28, 2010
Bad adaptation of a mediocre comic book. An R rated film geared towards children. This is the most thoughtless piece of film work in a very long time. Shame on those involved! Nicolas Cage is in it too, like half the movies being released this year. Take a break Nick, please!
July 28, 2010
I found this movie really quite clever and novel, as well as very well-written. The action sequences are great fun to watch, although I found the apparent Adam West impression that Nicholas Cage was doing a little bit irksome. There is something about seeing an 11-year old saw through a room full of full-grown mob goons like a lawnmower ithat just warms my heart. And even moreso when she casually curses while doing it. I imagine she will become a very popular Hallowe'en costume this year.