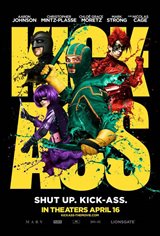 3.83/5
Based on 867 votes and 225 reviews.
Please rate between 1 to 5 stars
Showing 31-40 of 225 reviews
July 22, 2010
Shameful exploitation of children disguised as entertainment. This film is rated R and geared towards children, what were the filmmakers thinking? Violence is the scourge of society, why glorify it in the hands of children? Shame, shame, shame!
July 22, 2010
Poor first 8 minutes and gradually became better and better. Too much foul language,but an action packed movie. Good to watch.
July 22, 2010
not what i expected at all, 20 times better!!! hilarious, kill bill meets super bad meets xmen
July 21, 2010
Good story and ok acting mared by way to much violence, foul language and no sympathetic characters. An R rated film geared towards children, shame on the filmmakers for this thoughtless production.
July 20, 2010
Great movie! Even better than I expected. The storyline and characters were more realistic than Spiderman ever will be.
July 20, 2010
Pushes the limits. Very good Moive.
July 20, 2010
This movie was Entertaining, crazy martial arts by Hit-Girl... Never been a big fan of Nicolas Cage but i found him that he did well as an eccentric/Vengeful father... All in all it was very entertaining and it has a good story behind it. Enjoy
July 20, 2010
The most thoughtless excuse for a movie in a very long time. R rated entertainemnt for kids. Not the wisest of notions. The filmmakers manage to take a good idea and blow it out of the water with too much violence and pointless swearing. Shame on the filmmakers for making this!
July 20, 2010
This movie has to be aimed at the pre teen, teen population. Not funny, silly and nasty. Do not recommend this movie for anyone with a brain.
July 19, 2010
this movie was a good laugh. there were some silly parts. but overall the comedy was good. and the action was amazing.