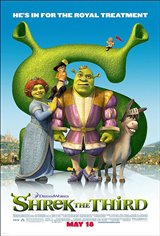 Shrek the Third
126 Reviews
|
Write a Review
In Theaters: May 18, 2007
3/5
Based on 3208 votes and 126 reviews.
29.08%

14.64%

15.90%

7.74%

32.64%
Please rate between 1 to 5 stars
Showing 11-20 of 126 reviews
September 2, 2007
funny!!!!
September 1, 2007
As a parent, I was expecting too much, the kids like it and this is a kids movie.
August 24, 2007
This movie was extremely boring. It is a waste of money and time.
August 8, 2007
HORRIBLE! I MEAN COME ON1 THIS NOT SHREK! THIS IS GARBADGE!
July 14, 2007
A big GREEN Disappointment.
July 11, 2007
HORRIBLE! I tried to like it, but I was unsuccessful. This movie was so bad and boring that if I see it on tv, I will immediatley change the channel. DON'T GO SEE SHREK 3!!!!
July 7, 2007
AWFUL
July 4, 2007
Complete waste of time. I was bored out of my mind!
July 4, 2007
All the funny parts were pretty much shown in the multitude of commercials before the movie opened. Very disappointing! :(
July 1, 2007
Best Shrek yet! Justin Timberlake rocks!!!