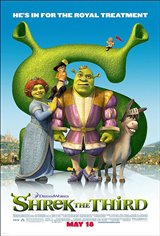 Shrek the Third
126 Reviews
|
Write a Review
In Theaters: May 18, 2007
3/5
Based on 3208 votes and 126 reviews.
29.08%

14.64%

15.90%

7.74%

32.64%
Please rate between 1 to 5 stars
Showing 31-40 of 126 reviews
June 23, 2007
hilarious
June 17, 2007
Tributefan: Very disappointing. the first 2 were better.
June 17, 2007
i love this mouvie i love donkey he is the best
June 12, 2007
aMAZING
June 11, 2007
Kept you going through the whole movie. Hilariously funny!
June 8, 2007
sexi stuff! shrek was the hunk of the show. but I LOVE DONKEY!!!!!!!!!!!!!! DONKEY! DoNKEY!!!!!!!!!!!!! donkey u r my goddess
June 7, 2007
THIS MOVIE WAS SOOO GOOD,AND FUNNY!
June 7, 2007
this was a good miovie
June 7, 2007
It is not the greatest movie ever, but I do not see why people are complaining so much. It was enjoyable. I think they overdid some parts (ex. frog king), but I had a good time.
June 5, 2007
Inappropriate humor, especially at the beginning. Making fun of death is unacceptable.