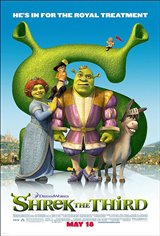 Shrek the Third
126 Reviews
|
Write a Review
In Theaters: May 18, 2007
3/5
Based on 3208 votes and 126 reviews.
29.08%

14.64%

15.90%

7.74%

32.64%
Please rate between 1 to 5 stars
Showing 21-30 of 126 reviews
June 30, 2007
I thought this movie was totally funny!I think it is the best out of all the shreck movies! i gave this movie 5 stars.
June 30, 2007
It wasn't even a movie. It was more of a long and BORING episode.
June 30, 2007
i loved it and dokey lol he is one guy and i love Sherk when he is humen he one sexy hot man can't wait to see the 4 one loved it it is the best
June 29, 2007
How is this movie still playing in theatres? A disgrace to the first two. Rehashed jokes. I was bored out of my mind.
June 26, 2007
Very funny....goog family comedy!
June 26, 2007
Sort of entertainig...
June 25, 2007
I think it was the best of the three
June 24, 2007
pwned this show. spitballs everywhere. everyone bored. but it rocked as usual. noone has a good sense of humor anymore. got five spitbals in the head. woot
June 23, 2007
A great comedy
June 23, 2007
mind boggling