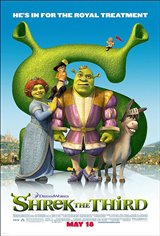 3/5
Based on 3208 votes and 126 reviews.
Please rate between 1 to 5 stars
Showing 51-60 of 126 reviews
May 31, 2007
Good movie. Had its funny parts! The gingerbread man was the best! JT was no so great in this one! Overall good movie!
May 29, 2007
BIG DISAPPOINTMENT THE MOVIE WAS TO SHORT. THE STORY IS WEAKER AND THE JOKES IS NOT EVEN FUNNY. IS NOT WORTH THE MONEY AND PLEASE NO MORE SHREK 4.
May 29, 2007
Very happy with this movie. It was so funny that it had most of the audience laughing a lot of the time, from the youngest (about 3) to the oldest (probably me 60)and I recommend anyone go and see it. This was the funniest one yet and I hope not the last one.
May 28, 2007
not funny at all
May 28, 2007
It was entertaining. Good for the kids and adults as well but it wasn't the best out of the other three films.
May 28, 2007
OK but wait for it to come out on video. Took 6 10yo boys and they only 'lost it' laughing once. Not as good as previous Shrek movies
May 28, 2007
This wasn't worth the rush, I should have waited for the DVD.
May 27, 2007
ok i don't care what anyone says, this movie is friggin hysterical. i was laughing almost the entire time and there's not THAT much gross out humor, which is good. all the different plot lines were actually easy to follow if you were paying attention. all the jokes were funny and innocent because even the kids in the theatre got them. the only thing that turned me off were all the laughing little children in the movies but other than that, this movie is the best i've seen all summer. i totally recommend it. x3
May 27, 2007
Disappointing sad ending if we were to talk to Al Qaeda the same way we would all be dead with in a week
May 27, 2007
I really thought they would ruin it but they didn't. I can't wait until 2010 to see the 4th one.