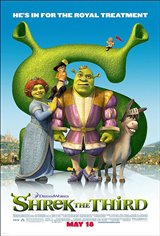 Shrek the Third
126 Reviews
|
Write a Review
In Theaters: May 18, 2007
3/5
Based on 3208 votes and 126 reviews.
29.08%

14.64%

15.90%

7.74%

32.64%
Please rate between 1 to 5 stars
Showing 41-50 of 126 reviews
June 5, 2007
good
June 4, 2007
When I saw Shrek the Third movie it was very funny.And Fiona is a bit srtonger then she looks.
June 4, 2007
great show
June 3, 2007
Not as good as teh first, but better than the 2nd - stil, very entertaining, even for adults
June 3, 2007
loved it!
June 2, 2007
Although this third installment does not quite match up to the superiority of the first two, it was still a fairly good movie. It had a few really good laughs. However, i felt it was more for children than any of the others. I mean the first two are as good for children as they are for adults but this one did not have the adult element as well as the others. I would recommend it for a family outing.
June 2, 2007
wasnt too impressed, it was seriously just a bunch of running around and jumping with catchy semi-popular music playing in the back ground, the humour was there, just not apealing to the parents, and even my five year didnt seem overly stoked about the whole experience.
June 1, 2007
Like most sequels, this one doesn't really offer much that's new. The story is weak but did provide a few good laughs, providing you didn't see too many promos. Average, at best.
May 31, 2007
NICE!!!THE BEST OUT OF THE OTHER TWOS AT LEAST.....FANTASTIC HUMOUR!!!
May 31, 2007
excellent better than the 1st and the 2nd