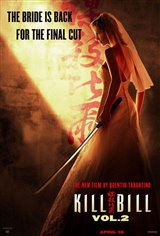 4.5/5
Based on 86120 votes and 153 reviews.
Please rate between 1 to 5 stars
Showing 21-30 of 153 reviews
September 19, 2004
it was the worst movie ever made!
September 15, 2004
this movie is awsome it is the best movie by QT this movie is way better then pulp and should win every acadmay award best movie of 2004 and do not waste your money on pulp
September 5, 2004
Kill Bill 2 is my favorite movie. It`s better than the first one. It has a lot more action in it and you get to know more about Budd and Elle Driver. The fight between The Bride and Elle Driver is the best scene in both movies. I mean you wanna see these 2 fight. Two woman of equal strength going head to head. That`s awesome. Uma Thurman and Daryl Hannah are my favorite actresses and I think this is one of thier best movies ever. Oh, and by the way I loved thier attitude. When I become an actress I wanna have that type of attitude in a few of my movies. I wanna be a villian like Daryl Hannah was in Kill Bill and I wanna be a hero like Uma Thu
September 4, 2004
I LOVE THIS MOVIE!! ITS THE BEST....UMA THURMAN IS THE BEST ACTRESS EVERR!! MY IDOL...KILL BILL ROX MY WORLD
August 31, 2004
this movie rocked the collest movie this year
August 20, 2004
THIS MOVIE WAS AWESOME!!!!!!!!!!! for all u that didnt like the first one, dont complain about not liking the second one. . .pss. . .haterz
August 18, 2004
Awesome, Cool, Funny, Nice, Amazing, Incredible and pretty much any and every other word would best describe this terrific movie - *ace*
August 17, 2004
Hmmm...pretty good sequel, but it could of used a lot more action like at the end when Uma finds Bill. Overall the movie was great and I really found out the whole story about Kill Bill and why Bill betrayed Uma. If Quentin made Vol. 3 I would definitely watch it.
August 16, 2004
I thought it rocked, totally put the story together, intant classic, a must see more than once.
August 10, 2004
It was such a great wrap up of the movie excellent