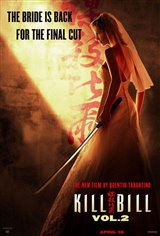 Kill Bill: Vol. 2
153 Reviews
|
Write a Review
In Theaters: April 16, 2004
4.5/5
Based on 86120 votes and 153 reviews.
86.92%

0.31%

0.54%

0.57%

11.66%
Please rate between 1 to 5 stars
Showing 51-60 of 153 reviews
May 14, 2004
This movie is only half as good as the first one.
May 13, 2004
AWSOME!! A must see for 2004!!
May 13, 2004
IT SUCKED
May 12, 2004
I liked it better than Vol. 1 - fight scenes and gore were substituted with character development and plot. Well made, well-written and still has that Tarantino wackiness. Thought Thurman and Carradine did great acting jobs. Pai Mei rocks!!!
May 12, 2004
Good, but I preffered Vol. 1
May 7, 2004
amazing!!!!!! pai mei (i think that was his name) was the best!!!! great movie 5 stars
May 7, 2004
i absolutely adored kill bill vol 2, it was stylish and provocative, uma was wonderful, seeing bill go down is worth the trip alone.
May 5, 2004
different from volume 1. The dialouge and action seemed to have been swapped! Still, it is an excellent flick that`s worth a watch!
May 5, 2004
It definetly wasn`t a copy of the first volume. As some movies are. I really liked it.
May 4, 2004
Seriously....I was falling a sleep!