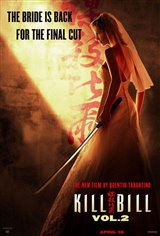 Kill Bill: Vol. 2
153 Reviews
|
Write a Review
In Theaters: April 16, 2004
4.5/5
Based on 86120 votes and 153 reviews.
86.92%

0.31%

0.54%

0.57%

11.66%
Please rate between 1 to 5 stars
Showing 31-40 of 153 reviews
August 6, 2004
Excellent!!!! 4 stars all the way
August 3, 2004
one of the greatest movies i have ever seen! TWO THUMBS UP!!!! SEE IT SEE IT SEE IT!!!!
August 1, 2004
excellent movie a must see
August 1, 2004
very good.
August 1, 2004
ts g0od!
July 31, 2004
kill bill.2 was ok
July 30, 2004
Better than the first one! This movie had all the gore, violence, and feeling that one would expect from a Quinton film. AWESOME!
July 30, 2004
Way too slow, I don`t care what anyone says this movie was a sequel, and a shambolic one at that. People told me it was a little slower. When in fact it crawled forward at such a snail`s pace that I started to fall asleep. How many people died? Like 5! And the longest fight scene was around 5 minutes long. I still get mad at people telling me that this movie was awesome...
July 27, 2004
I seen it Six Times Only because they stopped playing in the Theatres.... I can`t wait to own a copy of this....definelty my top 5 Alltime.... cult following for sure.......
July 24, 2004
superb,