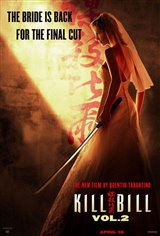 Kill Bill: Vol. 2
153 Reviews
|
Write a Review
In Theaters: April 16, 2004
4.5/5
Based on 86120 votes and 153 reviews.
86.92%

0.31%

0.54%

0.57%

11.66%
Please rate between 1 to 5 stars
Showing 1-10 of 153 reviews
February 18, 2018
ONE OF MY ALL-TIME FAVORITES!!!!!! guru bob
July 23, 2009
it was the most lamest movie ever if you pay to watch this movie you wouldn`t be thrilled you would be sitting their griming on every scene
April 10, 2007
Is it me or is the story really lame ? I don`t know why ppl are so thrilled by these two films. These type of stories can be found in many old movies all around the world. Is there some hidden meaning that i don`t get. Weird
December 17, 2006
awesome .
August 29, 2006
just as good as the first. very well done
July 28, 2006
The first one was better than the second(to me) but it I still liked the action sequences in this movie. Taratino is an amazing diretor.
July 26, 2006
How stupid can people be ... THIS MOVIE is a complete waste of time and $$$$$ .. not even worth DOWNLOADING. Group of killers betrayed one of the member, wakes up .. start killing, kill some more, flash back, kill some more. FINISH IT HAS NOT inner meaning or whatever, just a lot of blood splashing and eye poking. Hell man I rather watch pokemon twice than this crap
April 8, 2006
So bad it hurts!
March 19, 2006
GARBAGE! I don`t understand why people like it. It`s stupid!
January 19, 2006
SOOO! BAD!!!