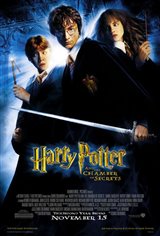 Harry Potter and the Chamber of Secrets
4.43/5
Based on 74346 votes and 333 reviews.
Please rate between 1 to 5 stars
Showing 31-40 of 333 reviews
February 28, 2004
I thought it was a reallly good movie!! but i wish would have been it more but shes in the prisoner of azkaban alot, i heard.
February 24, 2004
I think that Harry Potter casts and crue should not leave the movie even if everybody is geting to old they are to good to leave. like Daniel Raddcliff he even acted with a orange ball on a stick, like who can do that at his age like come on get a grip. no matter who is dead because i even had that feeling because my dad died from canser when i was eleven and he caut up with it whean i was six. so nomatter what happens all the casts must stay and if you change it then atleast keap it British. sincerly your best fan lil_lish
February 15, 2004
Harry Potter And The Chamber Of Secrets was the best movie I ever saw in my life.
January 20, 2004
it was a really, really good movie I really like it .I hope to see good movies like this one .
December 26, 2003
Harry Potter was great ! One of my favourite movie if the Harry Potter 2 is good then the Harry Potter 3 is the best !
December 5, 2003
It was great!
December 3, 2003
I really liked it! But I think Tom Felton should be a main charactor!!
October 22, 2003
"Harry Potter And The Chamber Of Secrets" is a fantastic adaptation of J.K Rowlings novel. Warner Brothers have succesfully brought the magic to screen.
August 21, 2003
Gilderoy Lockhart (Kenneth Branagh) was perfect for his role. I enjoyed it very much
August 14, 2003
Harry Potter Rocks And He Is Cute Too